Chiropractic Care When Pregnant
Pregnancy Chiropractor
Pregnancy can be both a physically and mentally transformative experience. There are so many changes happening all at once. The impact of these changes on your body can not be underestimated.
As a result of these changes, you may be experiencing bodily pains during and after your pregnancy. To help treat pains such as back or neck stiffness or stress on your pelvis, different treatment options may be worth considering.
Dr. Matthew Alch (Chiropractor) at Sydney Spinal Care has over two decades worth of experience in providing pre and post natal care and may be able to help you. Read on to find out more about how a pregnancy chiropractor may help you.
Chiropractic Care and Pregnancy
Chiropractic care during pregnancy may help to manage pain in your back, hips, and joints. It may also assist you in maintaining or establishing more pelvic balance. The team at Sydney Spinal Care have specific checks that we use during pregnancy to assess whether you are in optimal balance. If not, we may be able to recommend treatment and exercises to help you through these changes.
What is chiropractic care?
Chiropractic care is a hands on form of healthcare, which aims to help patients relieve common musculoskeletal pains such as in the back, neck and shoulders. It is practised by qualified chiropractors, who have completed a Bachelor of Chiropractic Science, a Master of Clinical Chiropractic, and are registered under the Australian Health Practitioner Regulation Agency (AHPRA) application process.
Chiropractors treat patients by applying force through their hands to relax muscles and correct posture. By keeping a detailed record of your health history, chiropractors may also plan and implement management of their patients' bodily dysfunctions. This is usually through exercise regimes and training programs.
Chiropractic adjustments are often modified during pregnancy, using a lower force technique to keep treatment gentle and targeted.
What to consider before undergoing chiropractic care
There are a few key points to consider before visiting a qualified chiropractor for prenatal or postnatal care. These include:
A chiropractor's area of interest. It is important to research if the chiropractor you are planning on visiting is familiar with prenatal or postnatal care, as a lack of professional experience may take away from a comfortable treatment.
Your health history. It is important to provide chiropractors with a detailed record of your health history in case your body is not fit for intensive chiropractic care.
How may chiropractic care help you with pregnancy?
Chiropractic care may help make your pregnancy a more comfortable experience, as well as lessen any musculoskeletal symptoms.
For example, according to the  Australian Government Department of Health, up to 84% of women can experience pelvic girdle pain during pregnancy (musculoskeletal discomfort in the pelvis and lower back). Chiropractic care may help with treating such pains by addressing bad posture, recommending postnatal exercises, as well as massage to affected areas.
The same can be said for postnatal care and musculoskeletal health complications, such as general body stiffness, back pain and neck pain. Chiropractors with an interest in postnatal care may give you a plan on what you need to get your body back on track.
We may find during your care that you need extra support. We have trusted providers that we can refer you to during this time, so that you are getting everything you need to build up again to your healthiest and strongest self.
Get in Touch
If you're looking for a pregnancy chiropractor, contact Sydney Spinal Care to find out more.
Read More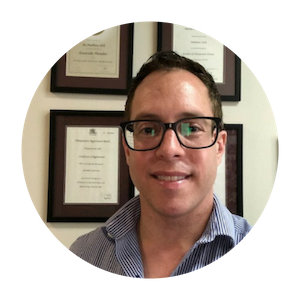 Matthew has been practicing with Sydney Spinal Care since late 2002. Matthew graduated from Macquarie University with a Bachelor of Chiropractic Science and a Masters of Chiropractic. His friendly nature and caring approach has been a welcomed addition to the Maroubra community as well as the Eastern Suburbs. He is a member of The Chiropractors Association of Australia and is registered with the Australian Health Practitioner Regulation Agency (AHPRA) (registration number: CHI0001306124). Sydney Spinal Care offer affordably priced chiropractic care to all.
https://sydney-spinal-care.com.au/wp-content/uploads/2020/12/prenatal-postnatal-chriopractic-1-e1608514678801.jpg
400
600
Dr. Matthew Alch
https://sydney-spinal-care.com.au/wp-content/uploads/2019/06/Sydney-Spinal-Care-logo-1.png
Dr. Matthew Alch
2020-12-18 16:19:11
2022-03-21 11:46:58
Chiropractic Care When Pregnant